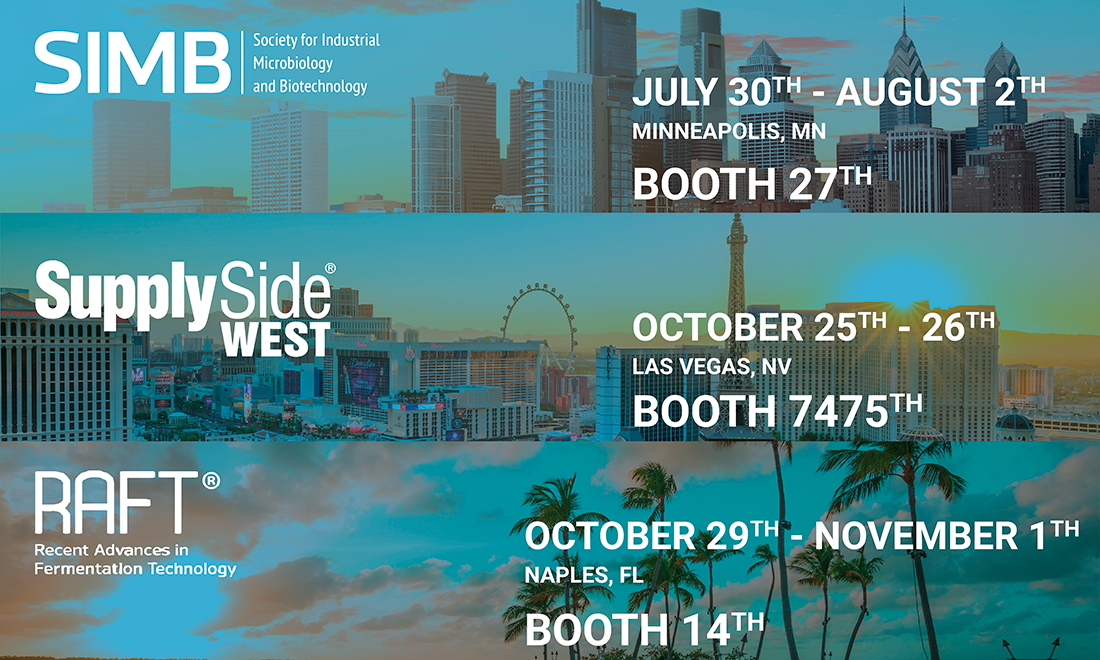 Global BioIngredients is on the move; visit us at 3 leading tradeshows
We are just back from IFT First in Chicago and we are ready for more.
Join us in Minneapolis at the Annual Meeting of the Society for Industrial Microbiology and Biotechnology, July 30th to August 2nd. SIMB is an international platform dedicated to the advancement of microbiological sciences, especially as they apply to industrial products, biotechnology, materials, and processes. We will be waiting for you there in Booth 27.
Global will be debuting our new booth design at SupplySide West on October 25 & 26th in Las Vegas, Nevada. SupplySide West is the nation's premier supply chain tradeshow showcasing the latest advances in nutritional products, dietary supplements, food and beverage technology, as well as food safety testing. Meet the entire team in Booth 7475.
Recent Advances in Fermentation Technology (RAFT) will be held from October 29th to November 1st in in sunny Naples, Florida. RAFT is a scientific conference offering lectures, poster sessions, plenary talks, tabletop exhibits, exhibitor displays, as well as numerous networking opportunities. Drop by and say hello to the team in Booth 14.
Global BioIngredients will be present at all three exhibitions. You can find us at the following locations:
– SIMB: Booth 27
– SupplySide West: Booth 7475
– RAFT: Booth 14